Paul and Julie Shenkman, Co-owners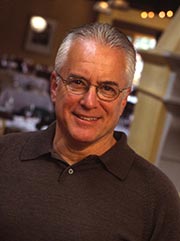 Paul Shenkman, award-winning culinary entrepreneur and Managing Partner, is largely responsible for bringing fine dining to the coastal town of Half Moon Bay. He has enjoyed 23 years as a successful restaurant operator on the California coast, and in 2010 was named "National Restaurateur of the Year" by the prestigious Sante Magazine Awards Committee. The award honors a lifetime achievement of exceptional work and service, and commitment to the restaurant and hospitality industry from the perspective of entrepreneurship and business management.
Shenkman was the initial founder and operator of Pasta Moon, which became a favorite Bay Area Italian Restaurant, nationally known for its authentic Italian cuisine and wines. He was himself the chef there for several years, during which time the restaurant won many accolades, including "Top 15 Best Italian Restaurants in the Bay Area" by the San Francisco Chronicle. In 2001, he and his partner/wife Julie opened Cetrella Bistro and Café, owning it through April of 2006, during which time it grew significantly each year and was one of 30 restaurants worldwide featured in Gourmet Magazine in 2004. It also earned the Wine Spectator Award of Excellence four years in a row and "Top 100 Restaurants in the Bay Area", by the San Francisco Chronicle several years in a row. In 2013 he was awarded the Innovation in Hospitality PROPS (Peninsula Recognition of Passionate Service Awards) by the San Mateo County/Silicon Valley Convention and Visitors Bureau for his hard work and dedication to the hospitality industry. Currently he is the Managing Partner of all of the restaurants.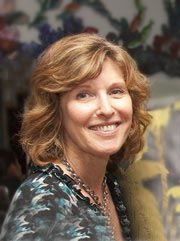 Julie Welch Shenkman, partner and Marketing Director, began her accomplished marketing career in technology, helping to brand and launch Internet start-ups, and working for visionaries such as Steve Jobs. While she was Vice President of Marketing at internet start-up Snap.com (which later became NBC Internet), the company became the first internet company to receive an Emmy for its award-winning TV commercial. As a long-time "foodie" Julie now applies her marketing experience to help the restaurants, creating high-impact marketing programs. Her extensive knowledge of traditional marketing combined with her knowledge of web, internet, and social media marketing, has helped put all of the restaurants on the map locally, regionally and nationally.
Lewis Rossman, Executive Chef/Partner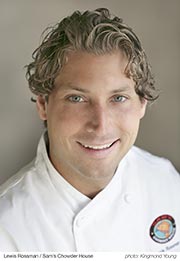 Lewis Rossman, award-winning Executive Chef/Partner for Sam's Chowder House, and partner in all of the restaurant ventures, has contributed to the success of some of the Bay Area's top dining spots. As opening team member and later Executive Chef of Cetrella in Half Moon Bay, California, he won many accolades, including San Francisco Chronicle's "Top 100 Bay Area Restaurants" list for three years in a row, and "Culinary Hospitality Restaurant of the Year" in the US by Sante, the Magazine for Restaurant Professionals. As Chef de Cuisine at Acquerello, rated one of Wine Spectator's "10 best Italian Restaurants in the U.S.", Rossman worked closely with award-winning chef Suzette Gresham.
Rossman grew up in rural Buck's County, a charming area outside of Philadelphia filled with farmlands, wineries, and local artisans, reminiscent of California's Napa Valley. Today his mantra remains sustainable, fresh, local when possible and always seasonal. The ingredients are the foundation of every dish, and produce in the fields of Half Moon Bay in the morning often finds its way onto the salad plate at Sam's by evening. This passion for fine, fresh ingredients is evident from the house-made dressings, sauces, and house-made desserts served at the restaurant.
Rossman is a partner and thought leader in all of the restaurant ventures, with overall responsibility for all food operations.